Latest News


4th September 2019
Harvest was hindered by intermittent rain in August, frustratingly with rain one day and fine the next, but not quite enough time to dry the crop in between showers.
The final fortnight, with a few long nights and Christopher taking on most of the combine driving, brought the last of the wheat in from the fields.
The bad weather resulted in reduced grain quality and more brittle straw.
The straw has been baled up into about 800 Heston bales which are 8'x4'x4' and weigh in the region of 600kg each. These were loaded onto flat-bed trailers and transported from the different harvest locations; back home for storage in several barns where they will remain dry until used on the farm.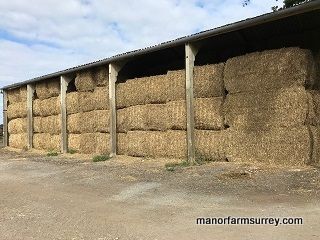 We grew three varieties of milling wheat; Skyfall, Zyatt and Elicit with the aim of meeting the quality required for bread or biscuit making. However, if weather conditions reduce the grain quality of the milling wheat, it will only be purchased by the grain merchant as a 'feed wheat'.
It's worth noting, that farmers are often criticised for growing crops for animal feed, whereas in this type of situation the crop has been damaged by weather and doesn't meet the quality to function as a milling wheat for human consumption. The feed wheat is sold to a merchant who sells it on to for many uses such as an ingredient of dog food and wild bird food.
The yields of approximately 3.5 Tonnes per acre were quite promising on our grade 3 soils, with a total of 3,300 tonnes going into the grain stores.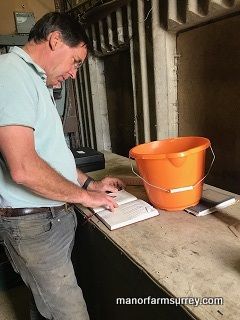 Samples are taken from every trailer-load of grain that is harvested and we keep records of the moisture content, temperature and the specific weight (density of product) of each load.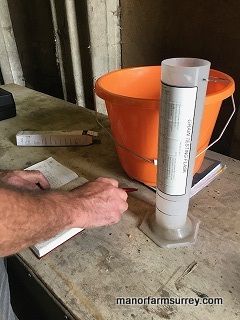 We ensure that the grain is below 15% moisture content before it can be storedand below 21/22 degrees so that it doesn't overheat in the grain bins.
Grain merchants visit the farm to undertake their own grain sampling, checking protein content, screenings and the Hagberg Falling Number (HFN).
The Hagberg Falling Number is a test that measures the number of seconds it takes for a plunger to fall through a mixture of wheat flour and water. The plunger falls slowly if the mixture is thick with starch and is faster if some of the starch has converted into sugar by the enzyme, alpha-amylase.
A high Hagberg falling number is an indication of low alpha-amylase activity which is good for bread making. Large-scale bakeries work with an ideal HFN range of 250–280 seconds.
Unfortunately, due to the rain and delay in harvesting, about half of our wheat grain was reduced in quality and didn't meet the grade for milling wheat. This has caused a drop of about £7 per tonne in price paid on half our wheat harvest, or a reduction of £11,550 for the grain that will become 'feed wheat'.
We tend to sell wheat in the Autumn, but due to a possible exit from the EU on 31st October and after various conversations with grain merchants, Laurence decided to sell much of it before that deadline due to the uncertainty surrounding trade in the coming months. In the last three days 1,000 tonnes has been transported to Sheerness' Port for export, 500 tonnes to a feed mill and 1,000 tonnes to a further merchant for collection in October.
Following the harvest of wheat at Shalford, the fields were cultivated and drilled with oilseed rape about two weeks ago. The plants are emerging and will have benefitted from the rain early this morning.
The fields around Park Farm and Coomb Farm have been cultivated and will be sown with wheat starting in mid-September.
For nine weeks the bulls ran with their own small group of cows and heifers. The bulls are then removed from the fields and we allow at least 35 days before having the cows and heifers pregnancy diagnosed.
The results for our older bull, Ethelred were relatively good, including his maiden heifers being in-calf. However, it was disappointing to find that six of Mister M's group were not in calf, four of which were his maiden heifers. The vet took blood samples from the empty females and the results were clear, not indicating anything untoward; therefore, Mister M will have a further fertility test next week to see whether there are any changes since his last check in the spring.
All being well, we expect 26 calves next March-April.

When I established this website in 2007, I used a camera to take all the photographs. Things have changed so rapidly in the past few years and I take many more videos now using my phone because that's always with me and will use those to 'post' our farming activities or wildlife onto Twitter.
However, I am glad to have remembered to take a few still pictures of the orchard recently and some dis-used nests!
Topping the brambles so the trees are not choked
We have an old orchard which we leave as a wildlife corner, only entering occasionally for pruning, topping the brambles to prevent them from engulfing the fruit trees and apple picking in September.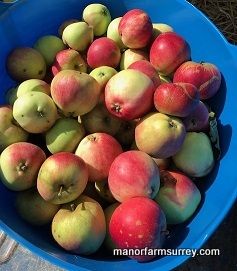 Some apples will be used for home baking and others are left for birds and insects.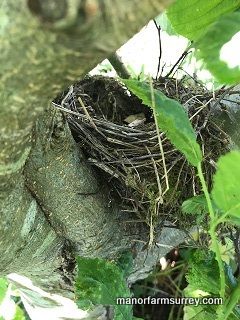 This bird's nest was discovered in the fork of one of the orchard trees.
Whilst walking a Bramble clad field margin recently, I was picking the odd blackberry along the way and was fascinated to find a bundle or ball of leaves and grasses in amongst the spiky brambles. On closer inspection there was a hidden entrance and tunnel into the centre of what I believe is a harvest mouse nest.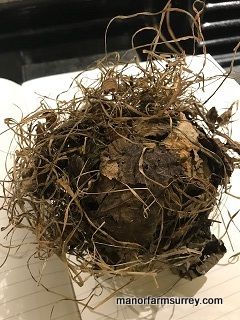 Harvest mouse nest

The nest shows how clever and adaptable wildlife can be, creating a dry, secure home from the simplest materials. It really is a thing of beauty in my opinion.
31st July 2019

Last weekend we welcomed a group of Australian and New Zealand farmers to Manor Farm. The group are on a tour of many farms, rural enterprises and Agricultural shows across Ireland and the UK which has been organised by Fiona Lake, a professional rural industries photographer and advocate.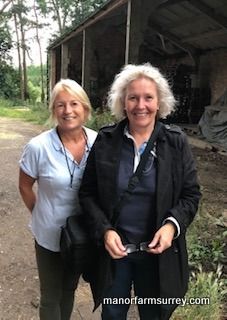 www.fionalake.com.au

This was the first time I had met Fiona in person, having only ever spoken with her via social media and email in the past. However, having seen some of Fiona's incredible photography of outback Australia and her outward looking attitude towards farming Worldwide, I was delighted that she wanted to bring Quadrant Tours to visit us and hear about farming in Surrey.
In organising this visit, my aim was to show the different aspects of our farming enterprise and how we need to dovetail our mixed arable and beef farming with our conservation work and biodiversity, whilst diversifying and future proofing the business.
All this must be achieved in a designated Area of Outstanding Natural Beauty (AONB), just 20 odd miles from London and with high visitor numbers along the Public Rights of Way network, which criss-cross the fields in which we grow crops and graze livestock.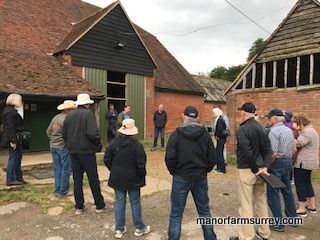 We talked about the history of the Matthews family farming in Somerset and how EDG Matthews took a tenancy in Cowden, Kent before moving his family, staff and livestock to Manor Farm in 1935.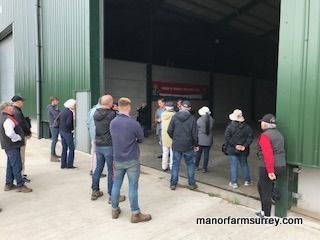 Conversation included everything from land tenure to soil types, the formation of the North and South Downs and the marine deposits in the chalk, minimum tillage to Red Tractor Farm Assurance and grain storage to conservation grazing. The conversation flowed for five hours and could quite easily have continued!
We took a short climb onto Holcomb Down from where our visitors could look out across the patchwork landscape of arable fields and pasture, hedgerows and woodland and south over the Weald. We were joined for the afternoon by Rob Fairbanks, Director of the Surrey Hills AONB who explained the designation of the area, which in brief, is to conserve and enhance the natural beauty of the landscape, to enable the quiet enjoyment of the countryside whilst having consideration for the interests of those who live and work in the AONB.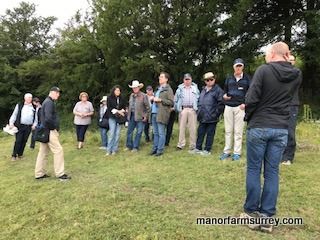 On the Downs we also met some of our Belted Galloway herd, discussed conservation grazing on a SSSI and why I choose to sell the 'Beltie' beef direct from the farm; connecting with consumers and giving them the opportunity to know exactly where and how their beef is produced from farm to fork.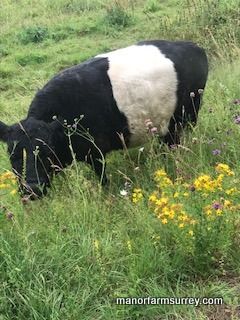 This is one photo I took earlier

To round off our Manor Farm tour, we looked at some areas of the farm where we grow wild flowers and grasses for pollinators which are located in areas interlinked with other habitats such as ditches, hedgerows and field margins some of which are sown with crops to feed birds in winter and other lengthy grass margins for small mammals, insects and birds such as Barn Owls which use the area for hunting.
Due to the small size and increasing isolation of populations, the Small Blue butterfly (Cupido minimus) is under threat and the Butterfly Conservation group have been undertaking work along the North Downs to try to support this species. Kidney Vetch is the sole food plant for the Small Blue butterfly and the larvae live only in the flower heads.
Having collected some native Kidney Vetch (Anthyllis vulneraria) seed from the Butterfly Officer, it was great having the Australian and New Zealand farmers getting involved and helping us to safeguard UK biodiversity by sowing the seeds onto bare ground and scratching some soil back over them.
I hope that we provided a good overview of farming, food and wildlife in an AONB with increased external pressures and proximity to London. Each farm on the Quadrant tour will provide a myriad of contrasts the length and breadth of the country.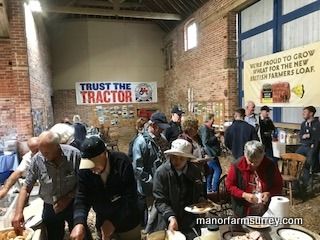 We completed our evening with a hog-roast, home-made cakes and British strawberries and cream!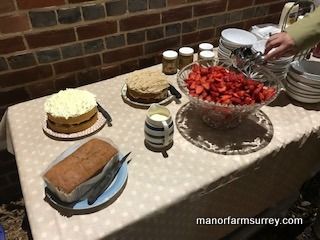 The previous week Laurence and I went to the Lambeth Country Show to help 'man' the National Farmers Union (NFU) #BackBritishFarming exhibit. The Lambeth Show is in its 45th year and is the largest free family festival in the country.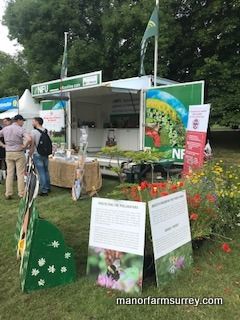 The NFU exhibit had some beautiful wildflowers, a native hedge and crops on display which drew visitors in. Alongside the crops were their respective grains, oilseeds, pulses and examples of their by-products.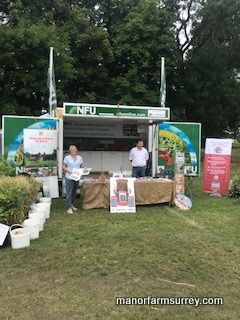 We spoke with people of all ages and answered questions about how we farm and what we grow and we received a lot of interest from school teachers and community and Scout group leaders interested in arranging a visit to a real working farm, so I shall be following up on these inquiries.

One recurring issue for educational visits is the cost of transport and I would like to see the government supporting every school with transport out to a farm, at least one class each year to help re-connect children with farmers, farming and to see how the food they eat is produced.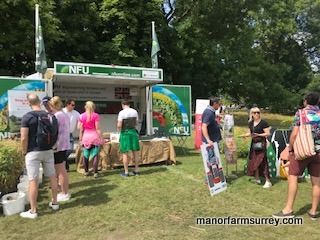 Children and adults enjoyed using a hand operated grain mill to see how grain is turned into flour and 'milking' the model cow proved very popular!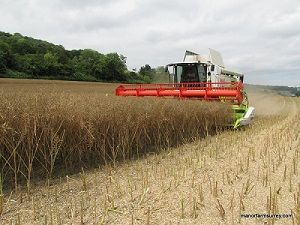 Harvest 2019 began with oilseed rape (OSR) at Park Farm and along the foot of the North Downs towards Westcott. 250 acres were originally sown, but 20 of these were written off due to pigeon damage and some drainage issues.
There is only a short window of time in which to harvest our crops according to weather conditions and subject to any mechanical breakdowns. Therefore, if the crop isn't damp with dew, harvesting will continue into the night and begin again the following day once the dew has dried off in sunshine or a breeze.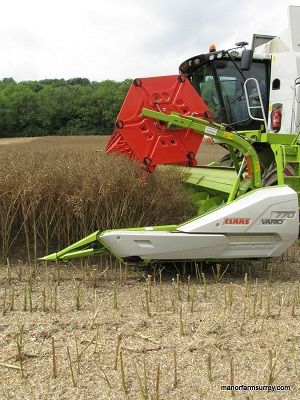 The weather was dry and hot for the OSR, with temperatures eventually reaching 37 degrees on the final day. Our concern this year has been that the OSR pods could pop open in the extreme heat, with the seeds simply falling to the ground before they could be harvested.
Oilseeds are tiny black seeds which are over 40% pure oil. Rapeseed oil is one of the highest quality vegetable oils, has low saturated fat and is high in omega-3.
The crop should be below 9% moisture content at harvest and above 6% otherwise the seeds begin to crack.
The oilseed will be sold to a grain merchant in due course.
The harvested OSR fields will have organic fertiliser spread, probably starting tomorrow and this will be followed by the cultivator. In late September/early October these fields will be drilled (sown) with wheat.
10th July 2019
Another four weeks has flown by in which we hosted a Clay pigeon shoot and hog-roast for fifty people on the hottest day of the year!
Many of our Belted Galloway herd spend the summer grazing the North Downs, a Site of Special Scientific Interest. Conservation grazing is an important part of our Higher Level Stewardship Scheme and we work in conjunction with the National Trust following the HLS specification from Natural England.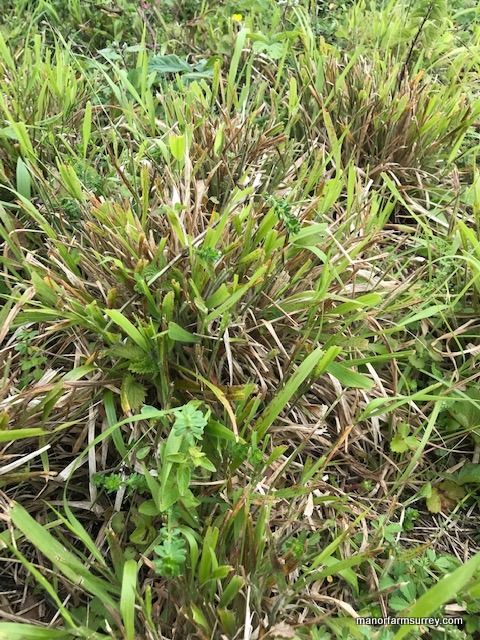 This coarse grass is being grazed down, which over many years should enable the finer herbs to become more prevalent and keep the encroachment of scrub at bay in certain areas. The hillside does have areas of scrub and woodland which are also important habitats for a variety of species and alongside the chalk downland they provide a diversity of flora and fauna.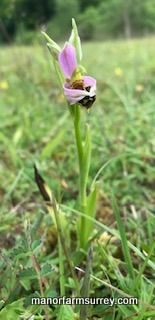 Bee Orchid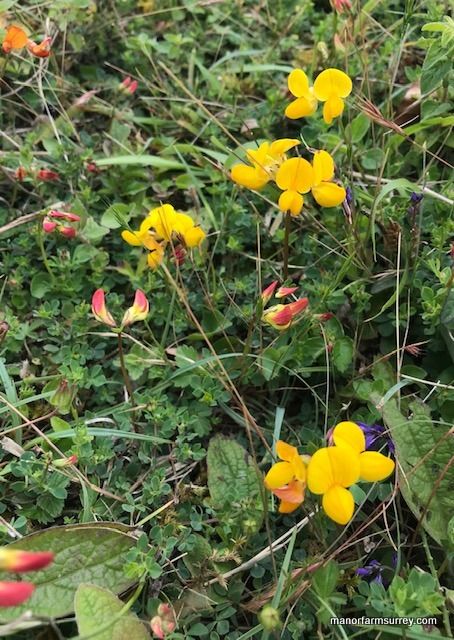 Birdsfoot Trefoil, otherwise known as 'Eggs and Bacon'

Today we moved the Belted Galloway yearlings from the large expanse of Blatchford Down east, into the smaller west side where there is fabulous re-growth for them to graze.
I can see the hillside from the farm house and even at a distance the white belts of the cattle can be seen against the green landscape; I wonder how many people look upon the hillside but can't quite fathom what the moving white blobs are!
This group of 29 have been a little unusual since going into this grazing compartment, because they have spent much of their time in two separate groups. They have grazed in amongst the scrub and across the open grassland which is fantastic, but it has made checking and counting the cattle in their sub-teams, more like a fitness regime for us, walking up and down the hill!
The Sandy Meadow pond that we dredged in February, began to re-fill with water run-off from the land above. The pond is now filled with clear water and is already teeming with pond life above and below the waterline. This was a pond previously cleared by Laurence's father and grandfather and the water used to be pumped from the pond, across the field to Park Farmhouse before mains water was supplied.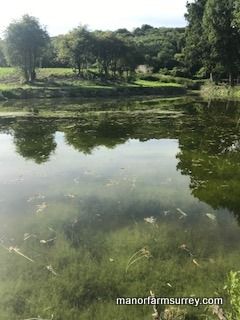 9th June 2019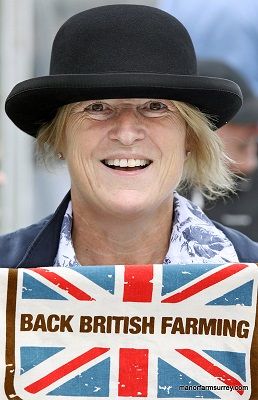 The Surrey County Show is held on the spring Bank Holiday and is organised by the Surrey County Agricultural Society.
Laurence has been a steward at the show since 1978 (41 years so far!); his father Fred was a steward for about 40 years and his Grandfather Edward represented the Surrey Agricultural Association in 1954 when the show began.
I was photographed in a bowler hat, traditionally worn by the show stewards and I couldn't resist holding up my 'Back British Farming' bag!
By backing or supporting British farming and buying British or local produce when possible, this helps to support sustainable Agriculture, hundreds of associated rural businesses, the rural economy and tourism across the UK.
Viable, rural farm businesses in the UK are better placed to provide high quality, high welfare food, improved habitats, increased biodiversity and unique regional landscapes which we can all enjoy. This may not continue to be possible if we import more food at lower standards, some of which is currently produced in ways that are not legal in the UK and some which may potentially cause Environmental damage and consequences abroad that are out of plain sight.
We've taken various farm machinery to the show over the years to provide a display in the main ring and this year was no exception, with a variety of tractors, combine harvester, cultivator and sprayer plus another tractor and baler provided for the demonstration by Claas dealers, Olivers.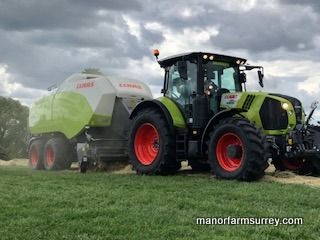 Laurence had arranged for a trailer-full of round hay bales to be unravelled around the ring. The hay was subsequently collected up by the baler, producing rectangular bales in front of a packed audience. There was a moment I held my breath, hoping that the demonstration would go according to plan and I'm pleased to say that it was really successful and packed with interest and information about farming in Surrey. I hope that everyone enjoyed it.
Thanks, must go to Laurence for arranging the display and for all our team for driving the kit to and from the showground and during the display as it takes up much of Sunday-Tuesday.
On Rogation Sunday, the day before the County Show, a service 'In Celebration of the Farming and Agricultural Life of Surrey' was held at Guildford Cathedral. The day produced two 'firsts' for us at the Cathedral: I was asked to read the second Lesson and Laurence was asked to take the combine harvester along!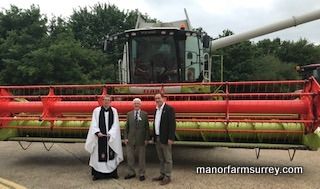 The Address was given by the Reverend Dr Mark Betson, who mentioned this could become an annual celebration. It was certainly an uplifting service for farming and Agriculture and Guildford Cathedral is quite a beautiful and peaceful place to visit.
1st June 2019
Spring has been relatively dry and we could do with some rain on our crops during the next fortnight as some are not as well established as they might be by now.
Last autumn 900 acres of winter wheat was sown and this spring: 70 acres of peas, 230 acres of fodder beat and 200 acres of maize, the last of which was drilled last week. Maize needs soil temperature to be around 12 degrees centigrade to germinate.
When we're out checking crops, we may come across fairly large stones or rocks in the field which we carry to the field edge to prevent hazards when using the combine harvester. Rocks can be accidentally be lifted into the combine whilst harvesting and cause severe damage to the machine.
We have invested in a stone picker recently which will remove stones up to 35cm prior to sowing the crop in a few fields. We'll continue to remove the larger rocks by hand.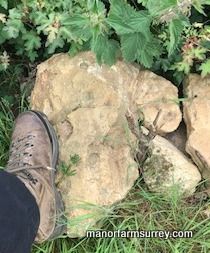 We had a nice tight calving window this year beginning on 13th March with Wotton Sky giving birth to Wotton Sunny and Jack being born to Jo on 8th April.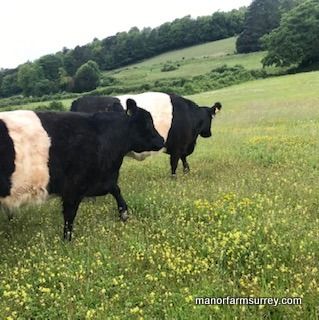 Belted Galloway conservation grazing, benefits diverse flora and fauna

We had 11 female and 13 male calves; a total of 24 this year. This is fewer than usual due to Schmallenberg Virus (SBV) causing a number of cows to abort last year. Schmallenberg Virus is carried by midges over the sea from Europe, the midges feed on the cow's blood and whilst doing so, transmit the virus. Those cows went on to have calves in the Autumn 2018 and were therefore out of synch with the rest of the herd this spring. Whilst I don't wish any of the cows to slip a calf, at least I have been told that those girls are now immune to SBV.

As well as growing crops and livestock for food production we also provide areas for wildlife such as ponds, woods and hedgerows as well as encouraging wildlife in arable fields by providing approximately 75km (46.6 miles) of 6 metre wide field margins, or the equivalent of about 45ha (111 acres) these include:
· margins cultivated to encourage rare arable weeds which have been found during independent plant surveys carried out for Natural England on the farm.
· over-winter stubbles, followed by fallow for ground nesting birds
· standing (unharvested) crops on headlands as winter bird food.
· areas of wildflower and grass mix
Of the land we farm, approximately 28% is not in food production but is providing a haven for flora and fauna with the hedgerows, woods, ditches, ponds and almost 50 miles of 6m field margins creating mixed habitats, a diverse patchwork landscape and wildlife corridors in which wildlife can find shelter, safety, food and water.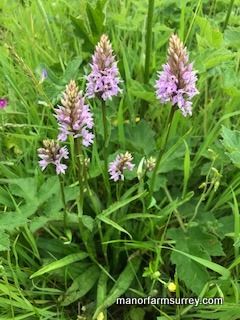 These beautiful Common Spotted Orchids are growing in one of our wildlife areas in which we ceased growing crops about ten years ago; and allowed it to revert to nature. this is a quiet corner on the farm away from public access so that biodiversity can flourish undisturbed.

This is a popular area to visit, and with hundreds of visitors every week it is becoming more difficult for wildlife to find safe, peaceful areas away from people.
Therefore, for the benefit of wildlife on the farm, we do appreciate visitors to the countryside remaining on the public footpaths and bridleways, especially staying off the fields and the field margins and woodland so that the wildlife is encouraged, protected and left undisturbed. Please help us in our aim to safeguard and increase biodiversity on the land we farm.
3rd March 2019
Winter is a time for any tree planting, hedge laying, coppicing, pond work and trimming back any overhanging vegetation encroaching over public rights of way or field boundaries.
We have been clearing the boundary in the Glebe where neighbouring trees including Yew and Laurel had fallen branches across the fence line.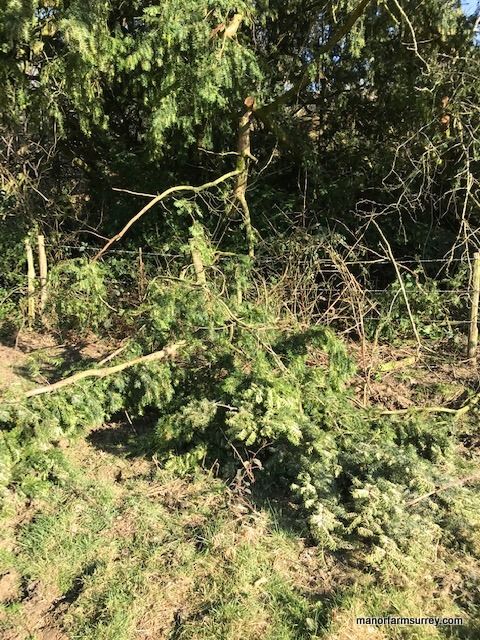 Both these species are poisonous to cattle and the livestock will eat them if within reach, particularly if there's snow on the ground and they can't find enough grass.
Once the trees have been cleared a replacement stock fence will be erected.
In 1849 a railway was constructed between Reading and Reigate Junction, with the line passing through the farm from Gomshall to Dorking. A culvert was constructed to carry water and run-off from the railway onto what we call Sandy Meadow.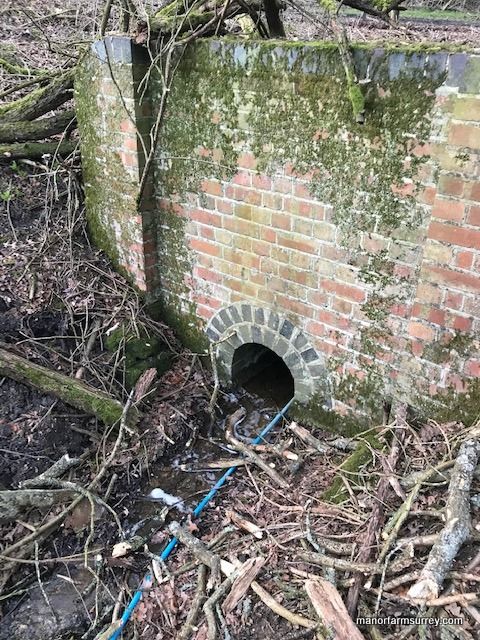 Either at the time the railway was constructed or when the water began to be used by Park Farm; the water course was dammed to the south east of the culvert. This created a large pond-like area with a sluice.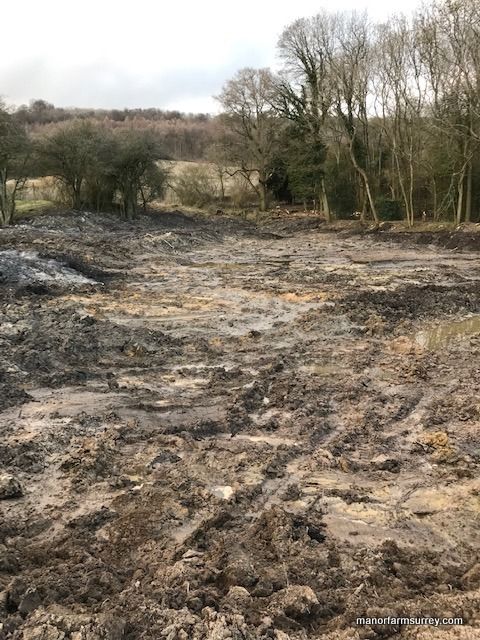 A brick-built construction at the southern end used to house a pump used to force water uphill to Park Farm.
The water is no longer pumped up to the farm house, but it still flows from the railway line into the pond area, bringing with it an accumulation of silt.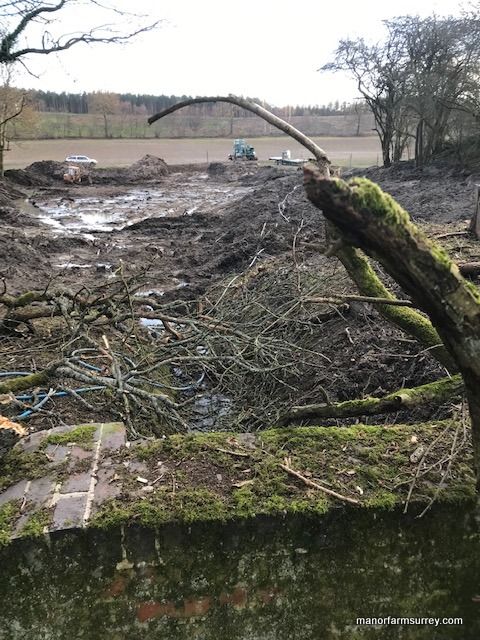 Laurence remembers dredging the Sandy Meadow pond in the 1980's, but over the years it has silted up again and become quite stagnant.
Work has been underway clearing the sludge in last few weeks, creating many levels within the pond to provide a variety of water depth for wildlife. It looks grey and lifeless at the moment, but it won't be long before flora and fauna colonise this reclaimed pond and the surrounding banks.
In 1986 the pond at Coomb farm was dreged by the conservation team who had their base at Coomb Farmhouse; here the team finish off the banks ( black and white photo).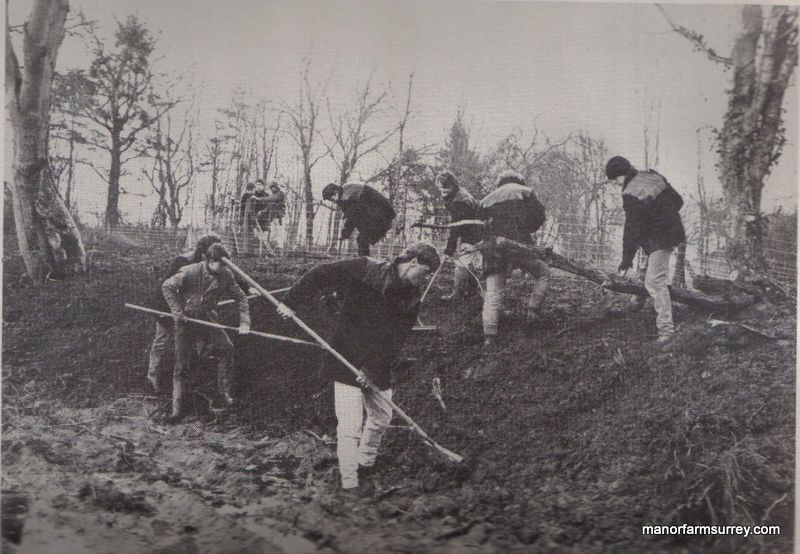 In February 2016 we dredged the Coomb farm pond for our landlord.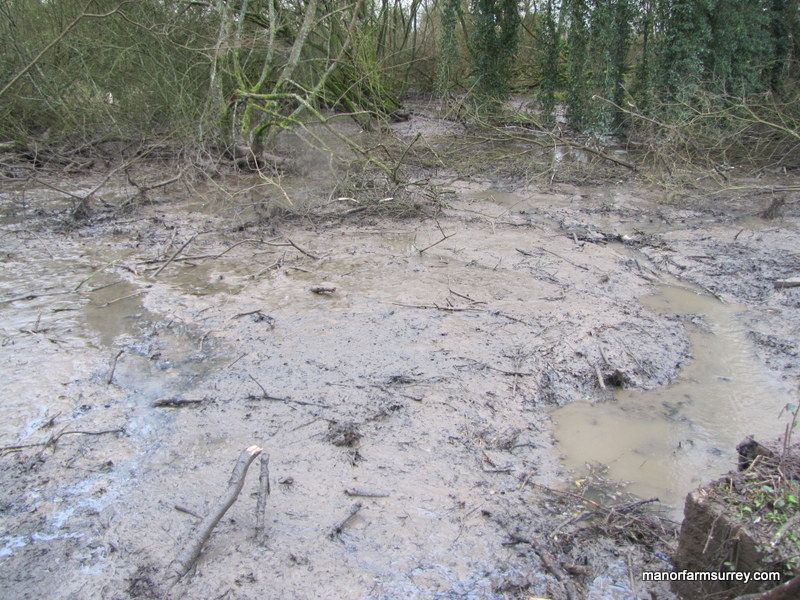 This is the Coomb Farm pond before dredging; completely silted-up.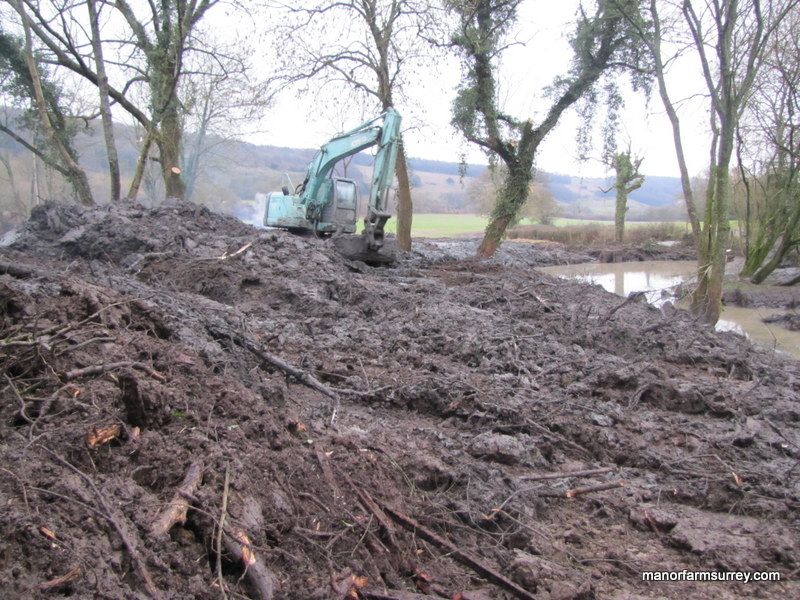 The work being undertaken February 2016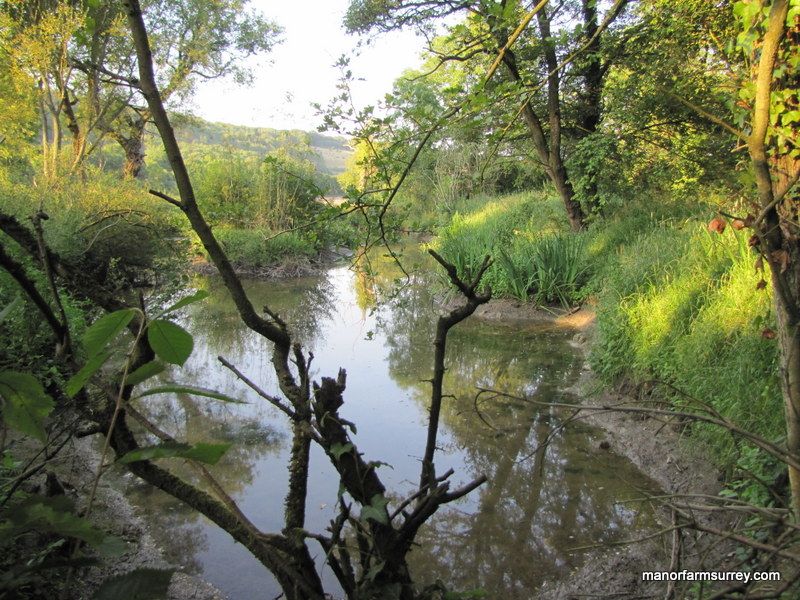 By August 2016 the banks were greened up with naturalised vegetaion and light was able to reach the water and the various surrounding habitats, so it won't be long before the Sandy Meadow pond will have the stagnant silt replaced by refresh water and invigorated with wildlife.

Livestock are cared for by our team throughout the year, with the out-wintering Belted Galloways needing regular checks, whilst the Friesian cattle which are housed in barns during the winter, being fed and bedded-up with fresh straw. Water troughs need defrosting or ice-breaking on the coldest mornings, although this year feels positively balmy compared to last!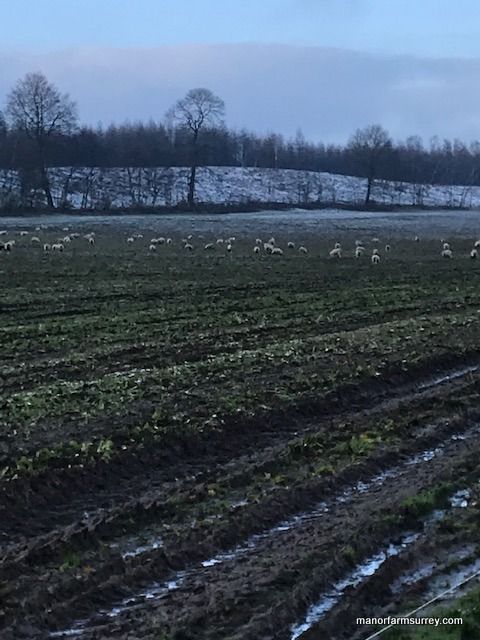 A few hundred sheep are over-wintering on the farm; they have followed in behind the cattle on some of the pastures and you may also see them going into the fields that have been harvested of fodder beet. The sheep eat up any remaining fodder beet and leafy tops and naturally spread their manure as they graze.

Electric fencing is used to keep the sheep on the area to be grazed and at the same time keeping them off the field margins which are provided for wildlife.
Whilst farming here to grow UK food, we also provide field Margins and hedgerows which are important habitats and corridors along which wildlife can travel, shelter and feed.
There are many types of unfertilised conservation headlands and field corners across that we provide on land we farm, stretching across 25 miles east to west;
· Enhanced wild bird seed plots; sown with wild bird food to fill the 'hungry gap' in winter specifically for birds.
· Cultivated fallow margins for rarer arable plants; these field headlands along the foot of the North Downs specifically benefit native 'weed' species. Natural England undertake plant surveys and have discovered the return of rare species.
· Buffer margins along cultivated land; these grassy headlands provide food for small mammals and are used as hunting ground for owls; a barn owl has been hunting during late afternoon to get enough food during colder weather.
· Grass areas as part of management of field corners
· Reversion to unfertilised grassland to prevent erosion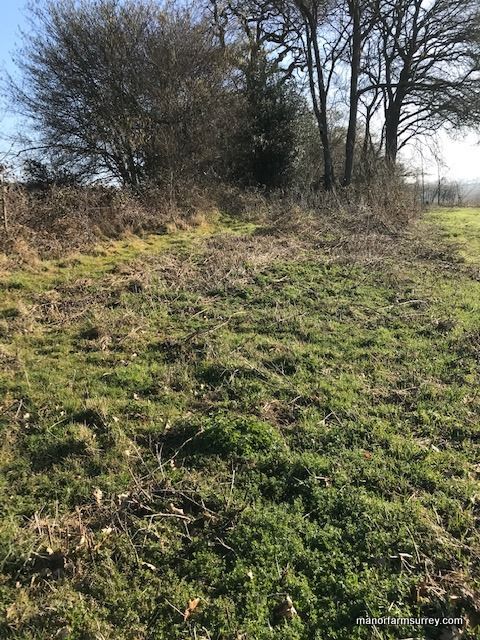 The margins may not look terribly exciting at first glance, but they are of great value to wild plants and mammals. For example, the margins on the north edge of the fields, that run along the foot of the North Downs between Park Farm and Westcott are 'cultivated fallow margins for rarer arable plants'; they are part of the Higher level Stewardship Scheme (HLS) and as such we are tasked with keeping people off these areas.
With hundreds of walkers, cyclists, horse riders and dogs visiting this food producing area every week not everyone will realise how important it is for us to establish and maintain these stewardship areas and protect them from public pressure.
Unfortunately, there has been disturbance and damage to the flora and fauna in some of the stewardship margins, hedges and copses by some walkers and dogs, horseriders and even unregistered motorbikes so it has become necessary to re-fence some of the field boundaries to safeguard wildlife, whilst leaving the definitive right of way outside the field.
There is not a 'Right to Roam' in Surrey, however we are fortunate to have over 2,000 miles of public footpaths (yellow arrows), bridleways (blue) and byways (red) in Surrey along which we can 'pass or repass' to reach a destination, plus areas such as the North Downs, across which there is more general access.
Some public rights of way have coloured waymark arrows (as mentioned above) particularly where a route is not obvious, but it is recommended to use an Ordnance Survey map (Pathfinder map 1:25,000) to ensure you are on the definitive rights of way.
This is a living and working landscape that has produced food for hundreds of years, a bit like a factory floor that also has ponds, hedges, woodland and public paths going through it and we thank all of you who appreciate the countryside, wildlife and UK food production and remain on the public rights of way when visiting this farmed landscape.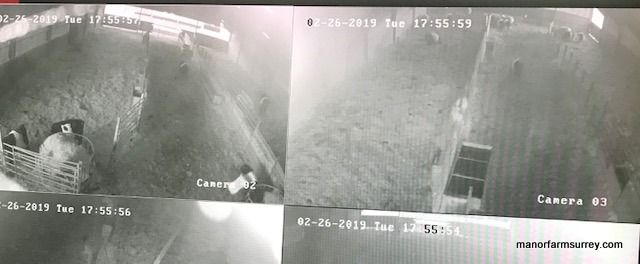 The Belted Galloway cows have moved back from the fields ready for calving in March and with cameras in the barns we can keep an eye on what's happening via our mobiles, day or night.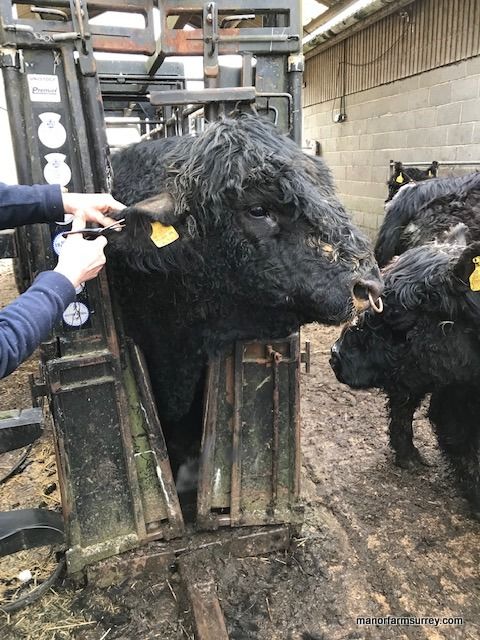 We trimmed the cows ears in order to be able to read their tags clearly in the calving barn, without needing to get too close to them! Both Ethelred and Mister M, the bulls also had a trim.
Farmvention (when farming meets invention) is a new national competition run by the NFU aimed at primary school children. Last year over a thousand children entered the competition and they could choose from three exciting problem based challenges designed to make children think about the day to day issues faced by farmers and growers in England and Wales, each challenge was supported by curriculum linked resources created in partnership with the Association for Science Education (ASE).
Next week we are hosting farm visits for two of the winning schools; Ronald Ross Primary, Wandsworth and Wonersh and Shamley Green Primary.
We look forward to welcoming you all to Manor Farm!
23rd August 2018
As you will see, it has been a very busy few weeks since I last wrote.

One very hot summer evening in August I was interviewed by Will Evans for his Rock and Roll Farming Podcast. You can listen to my interview if you copy and paste this link into your search bar:
www.rockandrollfarming.libsyn.com/episode-078
Will says he interviews farmers and people in the agricultural industry with the idea of showing off some of the incredible characters involved. They are people with work ethic, drive, entrepreneurship, and communication skills, and he loves talking to them to learn more about their lives and stories.
You may have seen Adam Henson on BBC Countryfile meeting Will on his farm in Wales, to talk about the farming podcast and for Will to interview Adam. This was just a few days before my episode went out on 8th August 2018
Will says 'Paula and her family provide a fantastic example of a diverse, modern and dynamic farming business, and it was a genuine pleasure to talk to her tonight. Check it out folks'
www.rockandrollfarming.libsyn.com/episode-078
So I hope you do take a listen to the podcast and learn a little more about what we do here in Surrey; farming to produce British food, maintain this beautiful landscape for all to enjoy; environmental work across 25 miles of farmland; educational visits to help others see how we farm and the food we produce.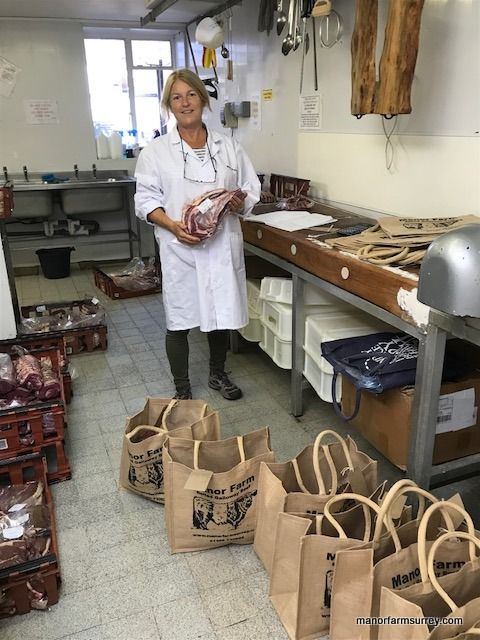 The following day our wheat harvest 2018 came to a close, with yields just above average and I was at the butchers packing up our lovely bags with our delicious grass fed Belted Galloway beef.

I transported the beef back to the farm in the fridge van and it was all collected direct from Manor Farm within the day. The next beef will be available in October and I am taking orders now!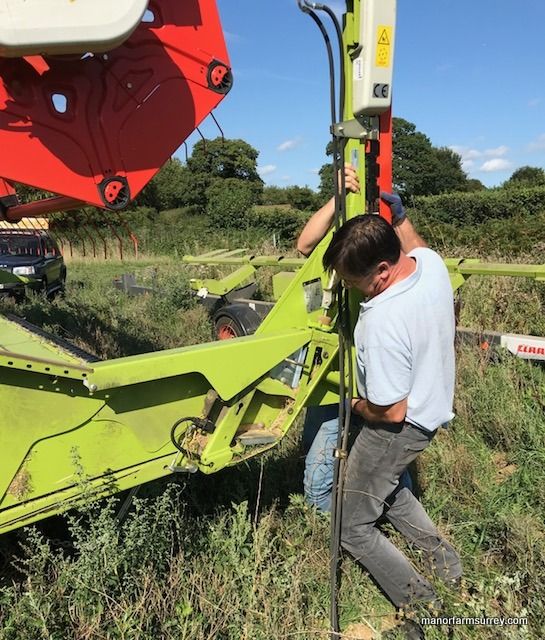 Laurence and Christopher set up the combine harvester this week and fitted the side knife in readiness to begin harvesting 150 acres of spring planted oilseed rape (OSR). The side knife is attached in order to slice vertically through the intertwined plants on the end of the header.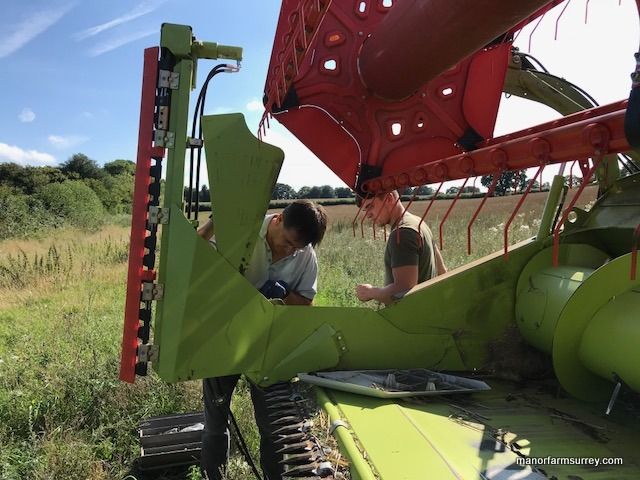 The horizontal knives on the header which cut the stems of the crop and the verticle side knife which cuts trought the upper part of the crop.
However when it came to 'opening up' which is the initial cutting of the field, the crop stems were still too green and caused a couple of blockages, so it will be left for a couple more weeks of drying in the sunshine before the crop is fit to harvest.
All our straw has been baled and stored in barns where possible but 720 Heston bales have been stacked outside in the shape of a barn and covered with strong purpose made sheeting.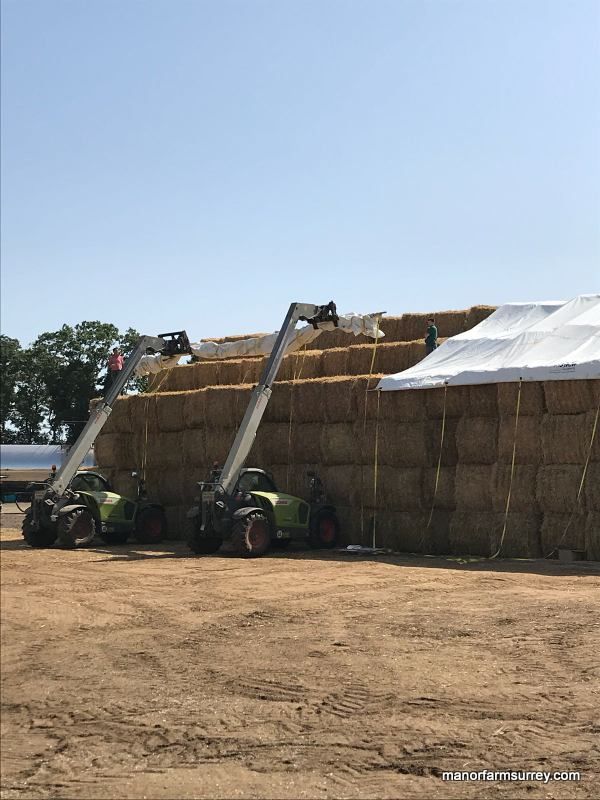 The heavy sheeting was lifted to the highest point at the side of the stack with two tele-handlers and then had to be unravelled and pulled over the top section and dropped down the other side.
Spikes were driven into the base of the stack and ratchet straps tightened the sheeting into place, hopefully this will withstand whatever winter weather is ahead of us!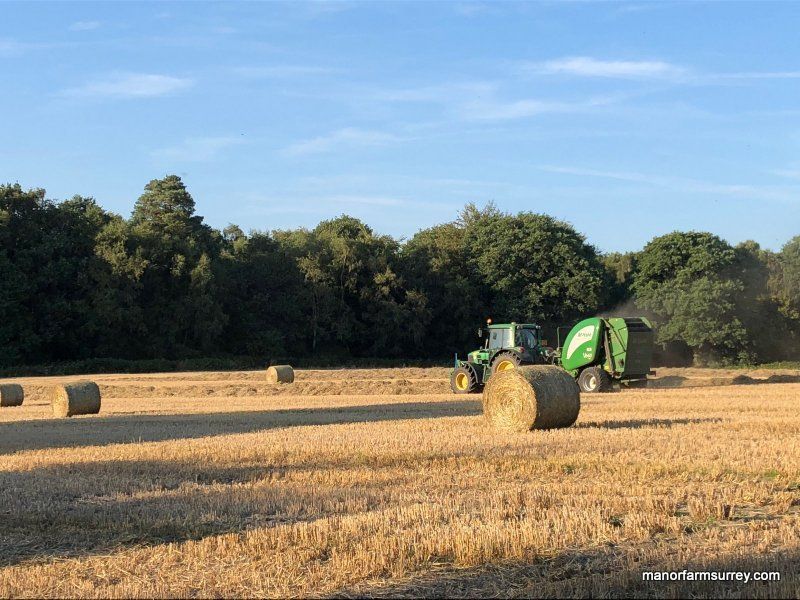 These round bales of straw have been collected from Lemons and this trailer is loaded with rectangular bales of hay from the Rookery.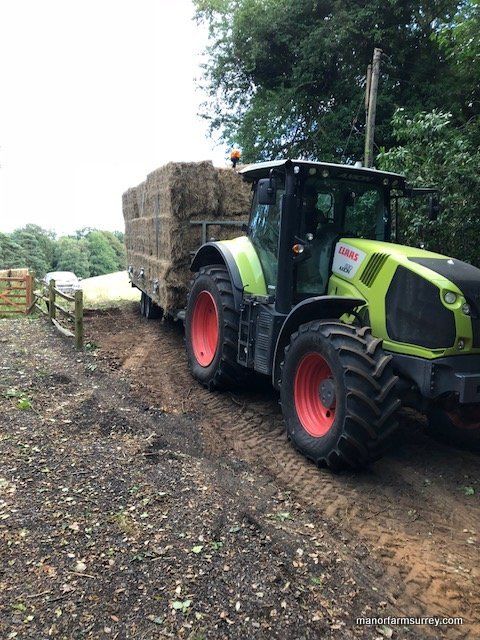 We currently use a minimum tillage or min-till system on the farm and have an Amazon drill which is drilling OSR at the moment. This is a chalky arable field at the foot of the North Downs where the Belties have been grazing this summer.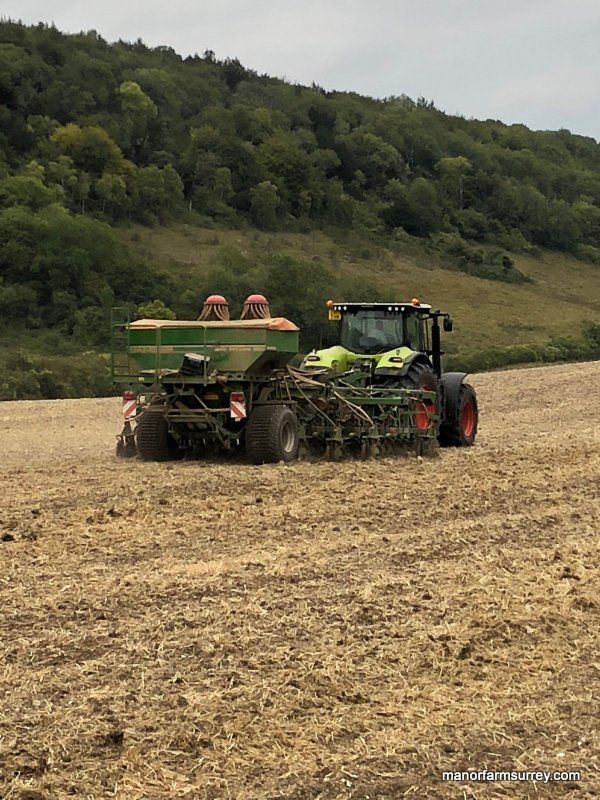 We are considering the possibility of buying a zero tillage drill and will have some demonstrations this week.

One of our neighbours, who farms fairly similar soil types, kindly brought his Sky drill over to our farm to demonstrate what it can do.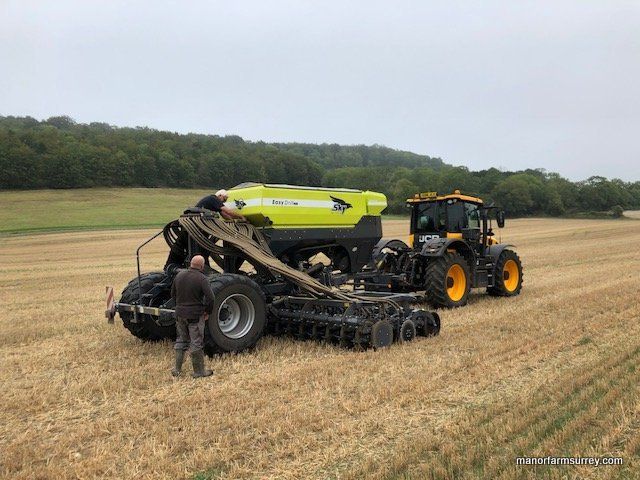 It is 6m wide and has the ability to direct drill the main crop as well as fertiliser and a cover crop at the same time.
A few acres of ground were drilled with OSR so we can see how well that comes up. The drill is returning at the end of September to drill an area of wheat.
Some advantages of a zero till /no-till: the soil is left uncultivated, undisturbed leaving a high level of the previous crop debris in the topsoil which aids water retention in the soil whilst soil erosion is almost eliminated; reduced soil compaction because less machinery needs to drive over; less agitation of the soil can lead to more biodiversity; the machinery can undertake its work in one field pass, therefore using less fuel; reduced emissions.
Some possible disadvantages: purchase of the new machinery; no mechanical control of the weeds by cultivations which can then lead to the need for chemical control of weeds; the previous crop's debris could harbour disease for the next crop, improved soil structure will take a number of years.
Two groups of cows and calves were walked back to barns where we had set up the cattle handling system/ 'crush'. The cows in Abinger Hall walked back to Paddington Farm and the group at Elex Wood were walked back to Raikes Farm.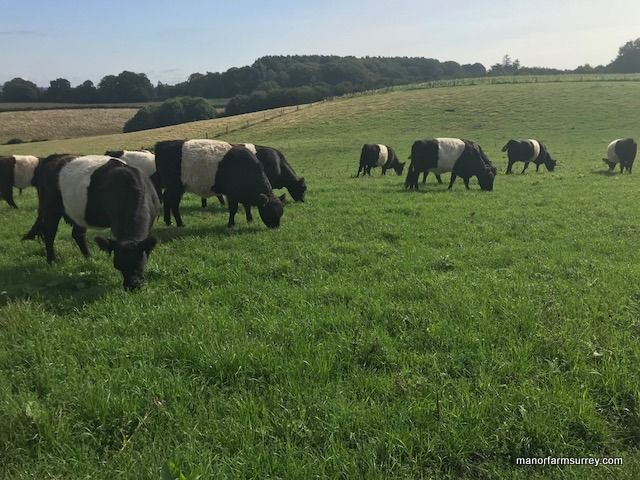 These girls stopped for a bite of breakfast en-route to Raikes farm
The Belted Galloways were pregnancy diagnosed (PD) and 23 cows are due to calve from March 2019.
The vet has a scanner with a view finder attached to his head via which he estimates the number of days pregnant.
We will have 10 home- bred heifers due to be served next May, but they cannot be put to Ethelred or Mister M because these bulls are either their sire or grandsire, so I'm giving thought to hiring a bull in for them or possibly having them artificially inseminated.
We are having two new barns constructed at the same time so that a crane can be used at the two sites within the same week. I will post more pictures as the work progresses.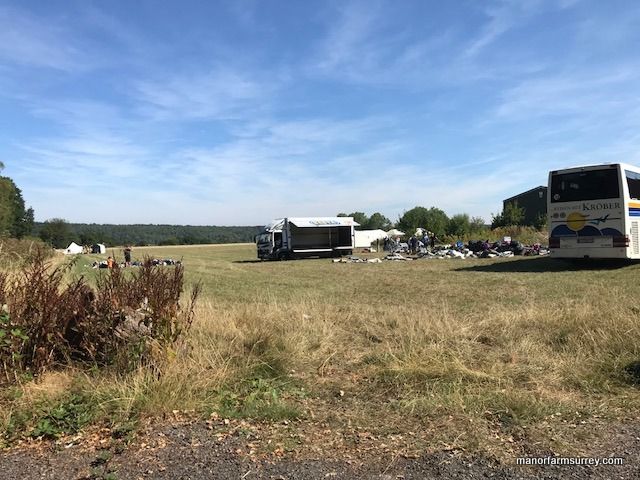 Scouts arriving on a beautiful summer day

For the past few weeks we have hosted a German Scout summer camp with about 100 people camping at Coast Hill Farm. The Scouts have visited various parts of Surrey and the Sussex coast and made a few trips to to London.
It was a pleasure to host the Scout camp and Laurence was surprised to be presented with some Scouting gifts before they struck camp.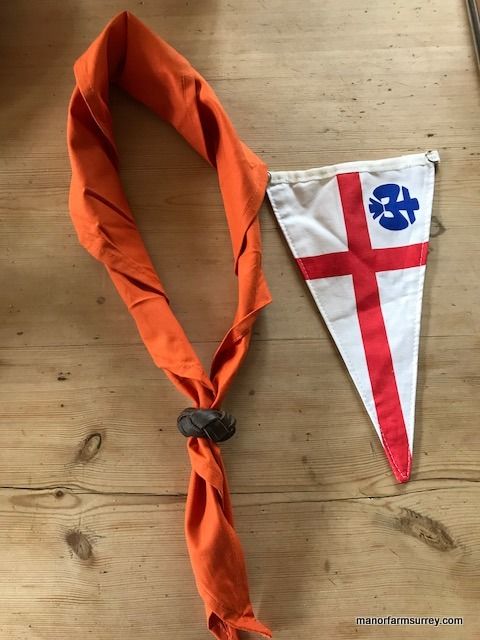 6th August 2018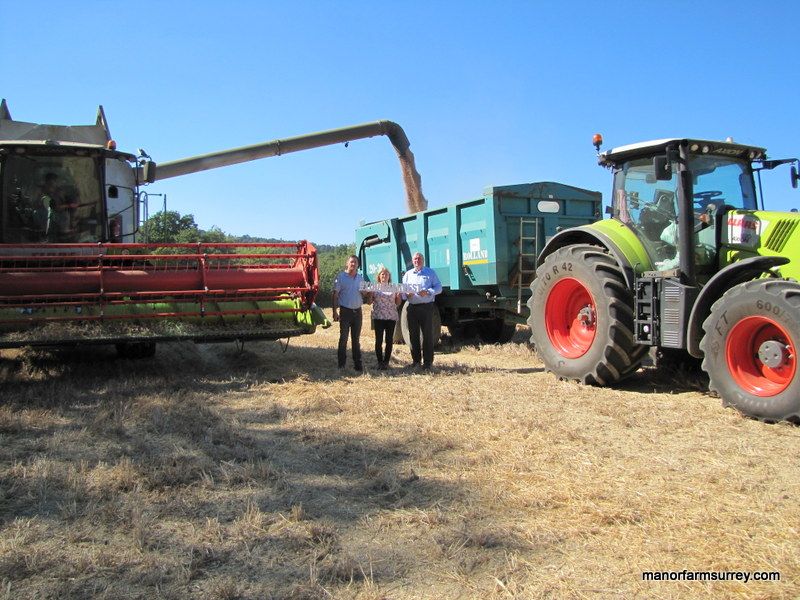 Yesterday Sir Paul Beresford MP visited Manor Farm to see the wheat harvest in action and to show support for the NFU's #YourHarvest campaign.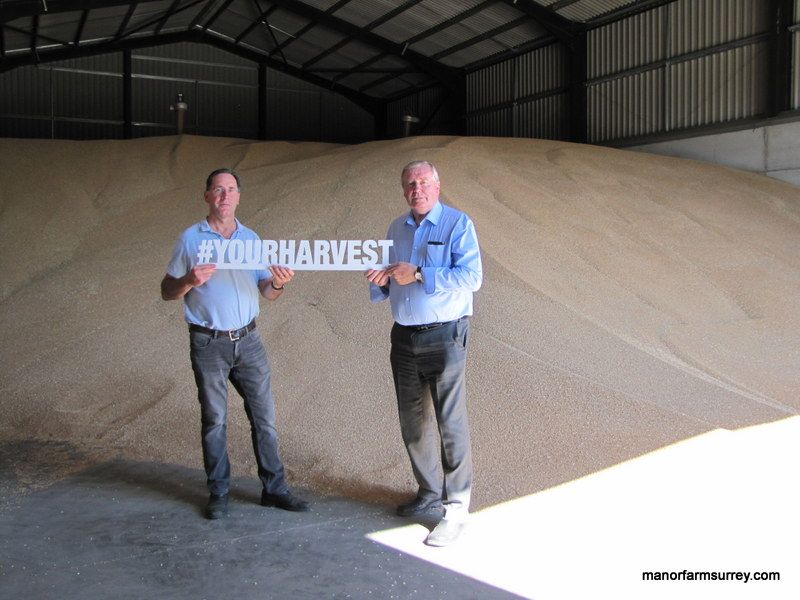 The campaign aims to raise the understanding of the arable sector and show how we grow the crops which form the bedrock of the UK's food and drink sector.
Every year the UK produces over 20 million tonnes of grain which is used as the raw material for products from pasta to breakfast cereal and 985 million pints of beer are produced every year from barley and malt ,with exports worth more than £500 m.
11 million loaves of bread are produced every year and 85% of the wheat used is British.
Another 11 million tonnes of British grain is used in animal feed which then gives the UK 25billion pints of milk, 10.5 billion eggs, 1 billion chickens and 10 million pigs.
The straw from #YourHarvest will be used as animal feed and bedding.
Whilst Surrey is a very wooded county, here in Mole Valley over 31,000 acres (34%) is farmland with 899 people directly employed in farming.
The gross value added of farming in Mole Valley alone, being £7.39 million.
96,591 people in Mole Valley will eat an estimated 2,813 tonnes of bread this year, 9,583,494 litres of milk and 10,598,952 eggs this year!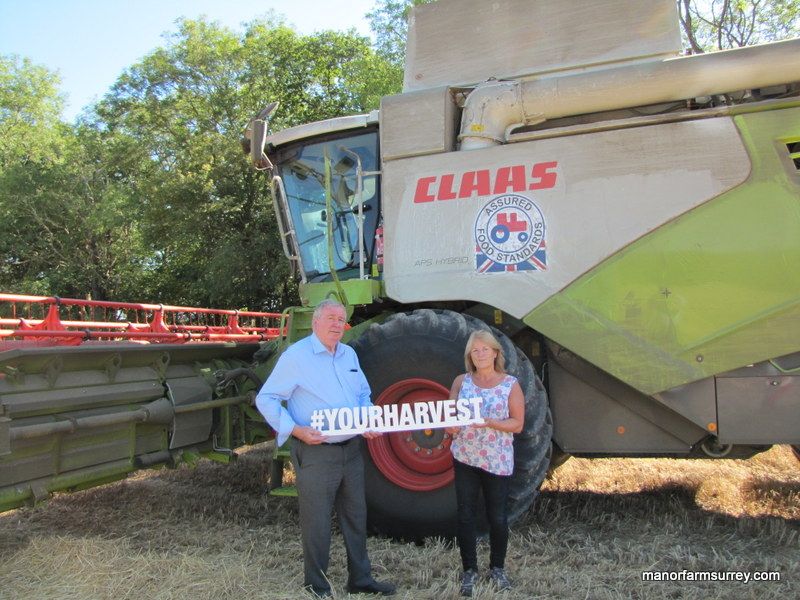 3rd August 2018
The combine harvester is a Claas Tocano which is smaller than the Lexion we used to have. We are growing less combinable crops at the moment and more forage crops, particularly on the lighter ground where the cereals don't always do so well.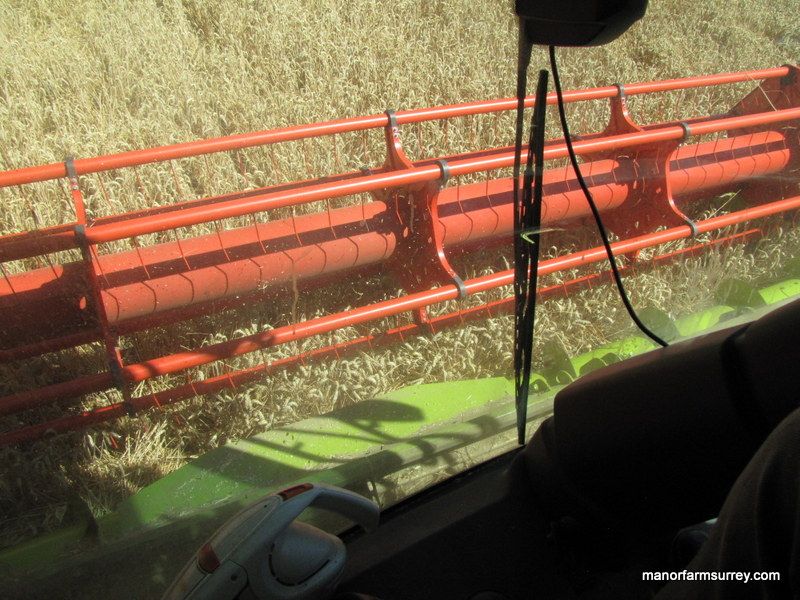 As harvest began earlier than expected, the Tocano arrived on farm with a a 9.3m header but the correct 7.7m header has now been delivered.
The header or cutter bar has knives to cut the crop and a reel (red in this photo) which feeds the crop onto an auger and into the combine harvester.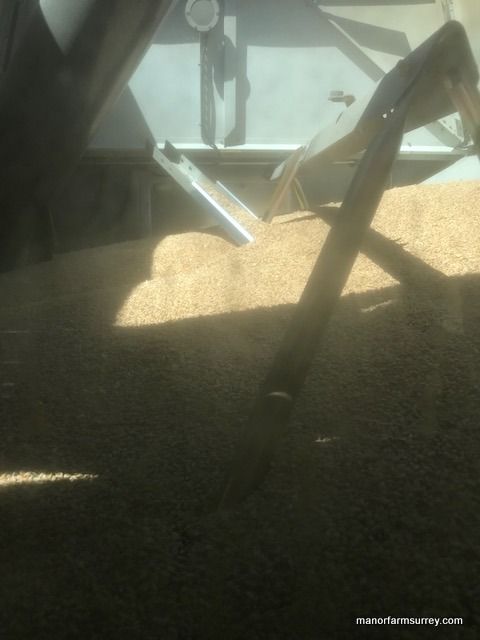 The combine harvester tank holds 11,000 litres of grain which is approximately 8 tonnes
depending on the density of the grain.
Two tanks- full would overfill one grain trailer.
Harvest has been progressing well and we've only had two days of rain to halt things, giving Laurence time to catch up on some of the stack of post and paperwork that accumulates during harvest time.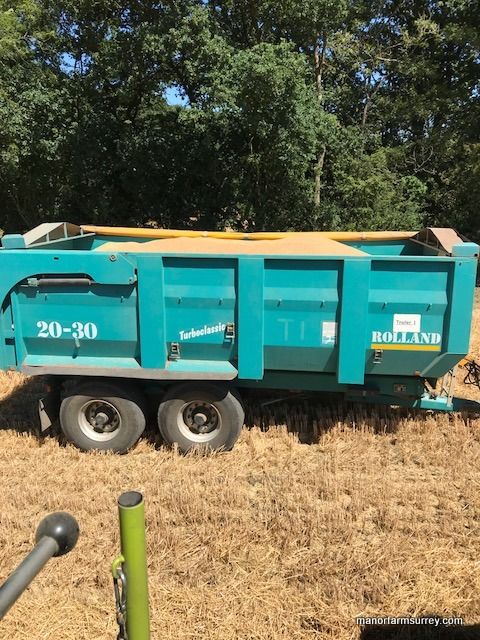 This grain trailer holds 15 tonnes
The oilseed rape is below average yield and the wheat that's been cut so far is just above average yield and the new variety, Zyatt is looking good so far.
All wheat this year will be sold to grain merchants for class 1 milling wheat.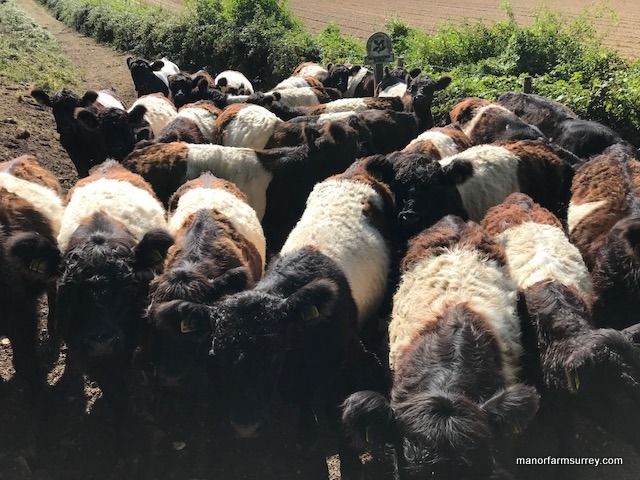 On Tuesday the 32 Beltie yearlings were walked off Blatchford Down, along the track to the barns at Hackhurst, from where we could load them into the livestock trailer. Two loads were transported up to Steers field and the Brow on Ranmore; from here they will have an amazing view across the Weald towards the South Downs!
For the past two years we had contractors harvesting for us, since our previous combine harvester caught fire whilst harvesting wheat.
So it's quite exciting that our new Tucano Claas combine harvester has travelled from Germany to Sussex (on a lorry) and after going through its pre-harvest checks it was driven to Dunsfold on Friday, where Laurence began harvesting oil seed rape (OSR).
The yield is below average and the seed is very dry in the first fields. The soil, if you can call it that, is very rutted clay and is now as hard as rock in this continuing dry weather.
The tiny black seeds from the OSR crop are at least 40% oil when crushed. The seed has been pre-sold and will go on to produce cooking oil.
We have 500 acres of OSR to cut before cleaning out the tank and then harvesting 15 acres of barley for our neighbour, a job that should be completed in three hours. Then it will be back home to start on 700 acres of wheat. This year we have grown Skyfall and Zyatt, both milling wheat varieties.
Just to catch up on Belted Galloway news. We moved all the calving to springtime a few years ago for practical reasons with workforce and so that the cows with young calves at foot could be turned out onto fresh grass.
However a few cows are out of synch due to last year 's Schmallenberg Virus causing them to abort, so they've added to the numbers grazing the chalk downland for Natural England and the National Trust this summer.
The majority of calves were born March-April except for the final two, called Nimbus and Wotton Nell who arrived on 16th May, I'm sure they waited for better weather! A total of 31 calves were born; 14 steers and 17 heifers.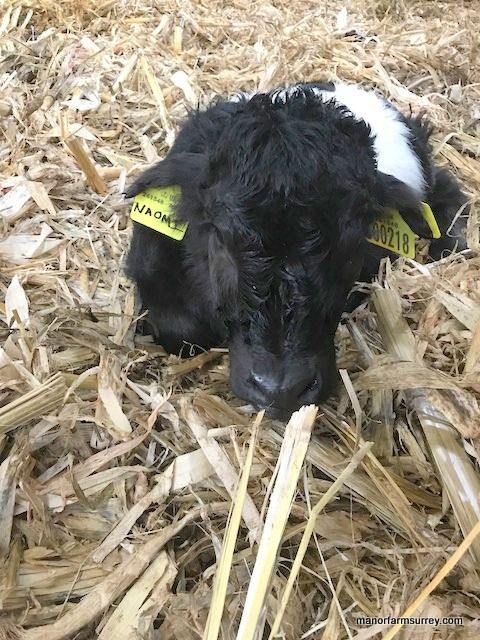 Wotton Naomi

The Belted Galloways underwent their 4 yearly TB testing; everything went well and in less time than anticipated which was a bonus.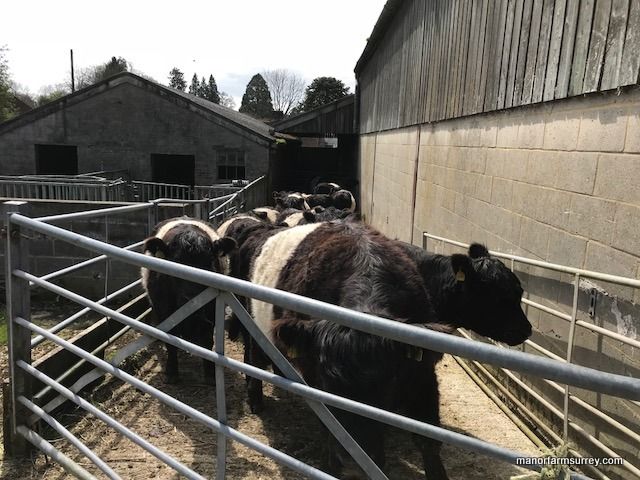 Once this task was complete we spent a few days sorting out the cattle and moving them to their summer fields.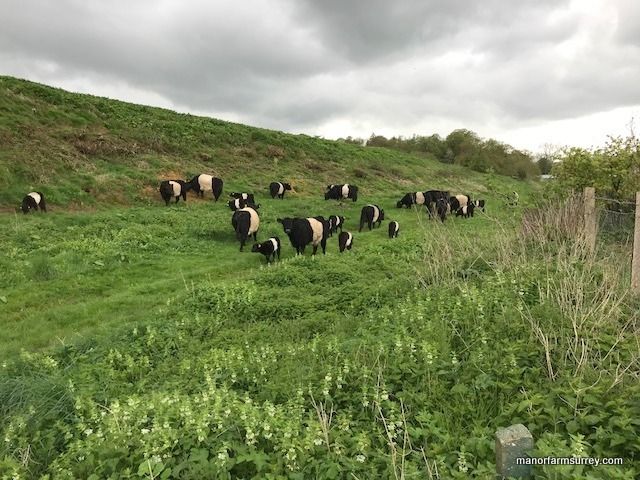 Carsluith Ethelred and Barwise Mister M joined their ladies for 8 weeks in fields without public rights of way, so they could enjoy their work without disturbance. They were removed from the fields on 4th July and we'll discover which of the cows is in calf on 20th August.
We hosted two contrasting visits recently but with a common theme; farming and education.
Eardley Primary School visited with children from Years 4-7. They were an inquisitive group with lots of questions for us about the various aspects of farming and food production we introduced them to; livestock, arable, machinery, food traceability, quality assurance and how mechanisation and science, such as the automatic milk machines improve farm efficiency but also importantly increase monitoring, health and welfare. The children had an enjoyable visit and seemed to take away a wealth of information which I hope will be just the start of their interest and knowledge about where their food comes from.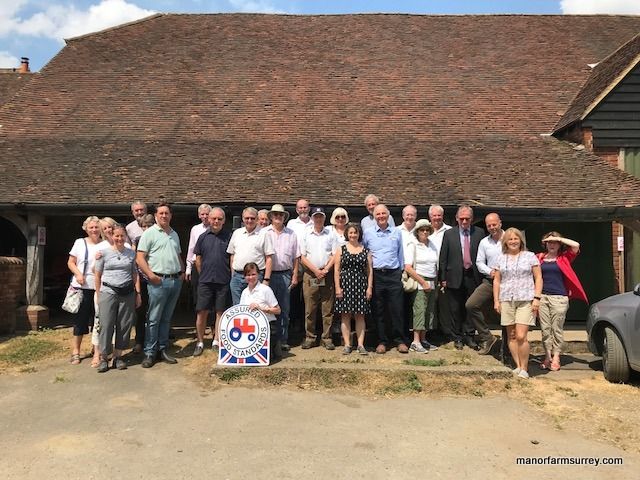 The following day the Surrey Hills Area of Outstanding Natural Beauty (AONB) held their annual tour which gave an opportunity for the AONB Partners to experience new areas and issues within the Surrey Hills AONB looking at policy and projects in relation to the future of food and farming; viticulture, rural enterprise; the arts, recreation, access and tourism.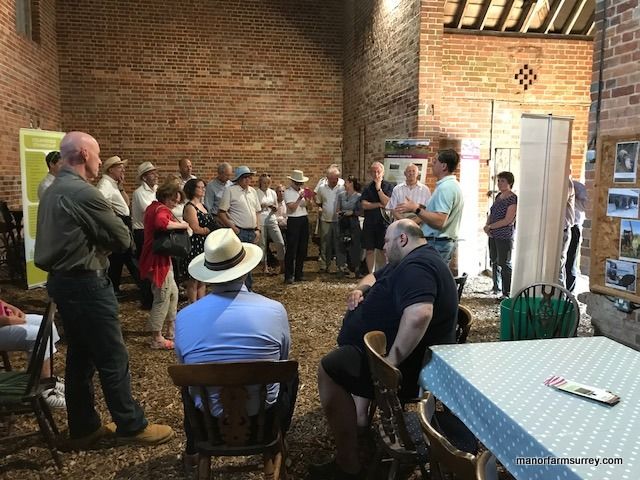 This included a visit to Manor Farm with an introduction by Laurence including a potted history of how his grandfather came to be farming in Surrey, his involvement in the war effort and how things have changed and evolved through his father's generation and to the current farm enterprise, environmental work and diversification.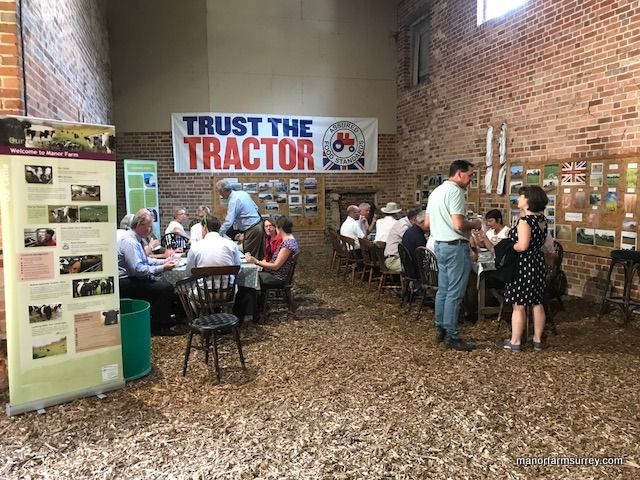 I was asked to outline our 'Countryside Classroom' and how we are connecting young people with the countryside and where food comes from; to explain what this entails on a practical level such as planning, H&S, costs, time and why do we do it!
We host visits because we want more people to know where their food comes from, for them to connect with the people growing food and for them to fill their senses and minds with memories and an understanding of how the food they eat is produced.
I explained that during the 'Year of Food and farming' in 2007 the then government wanted to get every school child out onto a real working farm. The government offered free transport and farmers like us went on a CEVAS training course. CEVAS stands for Countryside Educational Accreditation Scheme which is a nationally recognised accreditation. Further to our own training the farm was inspected and became fully accredited to host educational visits.
Unfortunately our own experience would lead me to say that the government's 2007 vision didn't reach its potential. For example I wrote to over 30 schools in Surrey offering free transport and free farm visits linked to the national curriculum but not one school at that time replied!
So instead we began to work with the Country Trust who would find inner city schools that did want to reconnect with farming and the countryside. The Country Trust continues to this day, matching city schools with Manor Farm and extending the connection between children, farmers and the food we all eat.
We used to host various local walks and talks before 2007, but since becoming CEVAS accredited we have provided not for profit educational visits to hundreds of children, young people and adults but of course it all takes time. We might question how much longer we can give up approximately 12 man hours for some of the visits, instead of farming and earning a living as things become more challenging due to BREXIT (but that's another whole topic of conversation!).
To round up our 'Countryside Classroom' with our Surrey Hills AONB visitors, Laurence gave a mini demonstration of how we learn about arable farming with a school group, including the crops we grow, what machinery and care of the soil and plants is required, thinking about the differences between the buckets of seeds and grains we pass around the group; letting the grains run through their fingers is a popular activity (hand washing after)and discovering the large variety of foods produced from the many crops grown here and across the UK and comparing with other parts of the world.
Here is a quote I have on my pin board and I think it could be a fitting answer to the question: Why visit a farm?
"What people don't understand, they won't value; what they don't value, they won't protect; and what they don't protect, they will lose." (Charles Jordan)